Birmingham Transformers Limited
Birmingham transformers is one of the UK's leading manufacturers of power transformers, line reactors, chokes and oil cooled rectifiers, which range from 50VA to 1MVA and voltages up to 3.3kV.
Birmingham Transformers was established in 1981, due to continued growth the company moved to its current 6000 square foot production facility in 1994. We have developed a reputation for customer service based on innovative design and rapid response. Emphasis is placed on quality from design through manufacture to ensure customer satisfaction. All our products are designed and manufactured in our Birmingham factory. The design team has over 30 years of experience in the design and development of transformers and inductors.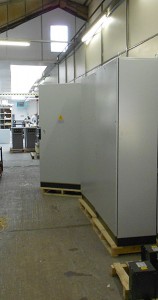 We work closely with our customers to develop the optimum product for their requirement using finite element analysis. We specialise in products for track side UPS, magnet technology, aircraft standby systems, drive systems, corrosion protection and offshore. Our standard products are used in various applications from panels to large standalone transformers.
The company can manufacture to all relevant British and European standards. Recent contracts have been completed for Lloyds and DNV marine requirements and we hold a Network Rail approval for transformers to BR924A
Further recent growth has led to the appointment of Mark Waidson, formerly of Skot Transformers, as General Manager in 2010
Contact sales@birminghamtransformers.co.uk
Condition of Sales / Website disclaimer & Copyright statement / Health and Safety statement / Quality statement /